Meeting of the Society - 3/19/2011
The Randolph Caldecott Society of America (R.C.S.A.) recently held its twenty-eighth Annual General Meeting/Caldecott Birthday Celebration at the Southeast Branch Library, in St. Augustine. The purpose of the society is to bring together those people who are dedicated to the remembrance, appreciation, and promotion of the art of Randolph Caldecott (1846-1886), nineteenth-century English illustrator, artist, and sculptor. Caldecott is buried in St. Augustine's Evergreen Cemetery. His grave received the distinction of becoming a Literary Landmark site in 2005. RCSA has placed a spring floral arrangement on the Caldecott grave site.
Alyssa Gilbert, Youth Services Librarian, at the Southeast Branch Library, introduced the group to the 2011 American Library Association's Caldecott Medal winning books. The Caldecott Medals are given annually for the most distinguished American picture books for children, published during the previous year. The 2011 Caldecott Medal winning book is A SICK DAY FOR AMOS MCGEE, illustrated by Erin E. Stead, written by Philip C. Stead. The two 2011 Honor Books are:
DAVE THE POTTER: ARTIST, POET, SLAVE, illustrated by Bryan Collier, written by Laban Carrick Hill and INTERRUPTING CHICKEN, written and illustrated by David Ezra Stein.
Recognized worldwide for the high quality they represent, ALA awards guide parents, educators, librarians, and others in selecting the best in literary materials for youth. Art and Anne Boccieri, Life Members of RCSA, have purchased, on behalf of the society, a set of the above books for the Randolph Caldecott Children's Room at the Main Library. RCSA purchased an additional set of the books for the Children's Room at the Southeast Branch Library, all for the enjoyment of everyone in our community.
RCSA presents jointly with the First Coast Pilot Club an Art award, annually, to a deserving high school student in our county to support and encourage the study of Art. The 2010 recipient was Pamela Goedhart of St. Augustine High School.
In place of the usual Caldecott related topic program a Silent Auction was held this year. The auction consisted of collections of books and other literature related items belonging to RCSA member, Patricia Doudna.
Refreshments and meeting arrangements were provided by: Dot Taylor, Linda Ginn, John & Sharon Green, Joan Scopinich, Art & Anne Boccieri, and Gwen & Allan Reichert.
Door prizes consisted of Children's Literature related items provided by Patricia Doudna.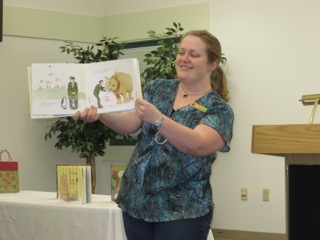 Alyssa Gilbert
during her introduction of the Caldecott Medal Winning Books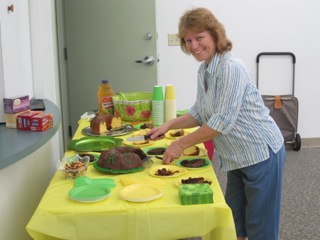 Refreshment table attended by Sharon Green
The next society meeting is planned for Saturday, March 24, 2012 at the Southeast Branch Library. President Reichert is planning to speak on "Caldecott Day in Kent" upon returning from an upcoming trip to England. Anyone interested in more information concerning the Caldecott Society or interested in joining the society is invited to contact Gwen Reichert, President or Art Boccieri, Vice President.
Anyone interested in more information concerning the Caldecott Society is invited to contact Allan C. Reichert, President or Arthur R. Boccieri, Vice President.
Submitted by:Gwen P. Reichert, President, RCSA
Phone: 797-5686 (Home)
---

Back to Caldecott Home Page
---
Pages Written by Allan C. Reichert
Randolph Caldecott Society of America
Updated on 4/25/12