---
Article in The St. Augustine Record From Staff - Posted: June 29, 2010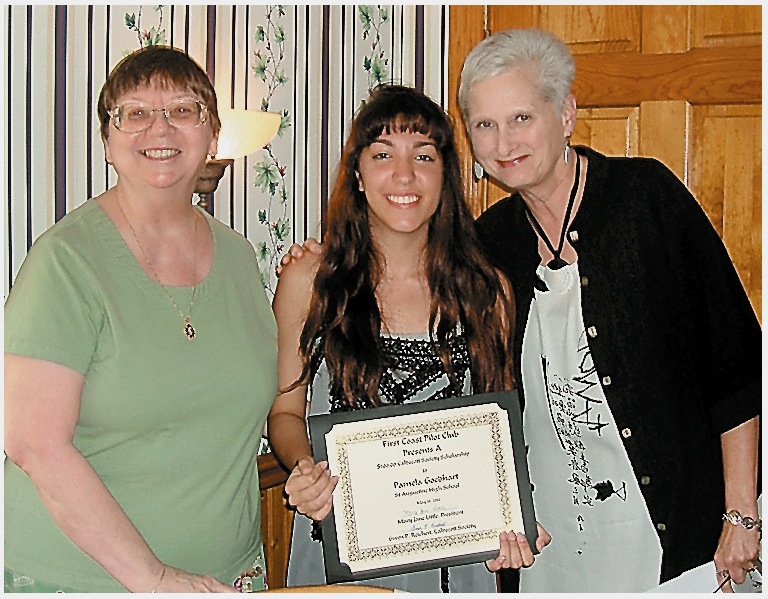 From left: Gwen Reichert, President RCSA, Pamela Goedhart and Mary Jane Little, First Coast Pilot Club
A number of community organizations have presented scholarships this season. Today and Wednesday, these clubs will be spotlighted along with the recipients of the organization's generous support.
First Coast Pilot Club
First Coast Pilot Club of St. Augustine presented five scholarships this year, the result of partnering efforts with local businesses and organizations.
* Pamela Goedhart of St. Augustine High School, daughter of Albert and Susan Goedhart, received a $500 award. She plans to attend Albertus Magnus College and majoring in art therapy. This scholarship is sponsored by both the club and the Randolph Caldecott Society of America.
* A $500 scholarship, presented by the club, went to Robert W. Stern of Allen D. Nease High School, son of Murray and Nancy Stern. He plans to attend Northwestern University and majoring in radio/television/film.
* A second $500 scholarship from the club was awarded to Matthew J. Walsh of Creekside High School, son of William and Virginia Walsh. He plans to attend Florida Institute of Technology and major in mechanical engineering.
* Two scholarships, each in the amount of $1,000, were given exclusively by Hester's Abbey Floor Coverings made possible by Scott and Elizabeth Kophamer. Recipients were Taryn Greene of Pedro Menendez High School, daughter of Terry and Renee Greene; Ryan Andrew Hayes of Hayes Home School Academy, son of Ronald J. and Karen J. Hayes.
Taryn will be attending Auburn University and majoring in engineering. Ryan plans to attend Cedarville University and majoring in mechanical engineering.
Club members are most grateful for the generous support received from the scholarship donors and in particular to Pilot member Lynne Stephenson, owner of Flamingo Travel, who donated a cruise for which members sold raffle tickets to fund their portion of the scholarships.